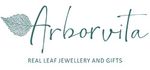 Arborvita - 15% Carers discount
Use code at checkout
Highlights
Jewellery and Gifts made using real leaves and flowers.
One Tree Planted for every purchase made.
Free Worldwide Shipping.
Buy Now Pay Later Available.
All of our jewellery and gifts are made using real leaves and flowers. By preserving real leaves and flowers in precious metals, resin and glass, they will last forever and can be worn as necklaces, earrings, brooches and much more. Nature will always be with you.
Each leaf and flower is unique, original and one of a kind. Our leaves and flowers are steeped in mythology and symbolism. They have their own story to tell. Visit our website to learn more about their meaning.
Buying a gift for someone? We offer a gift wrapping service using hand panted botanical patterns digitally reproduced onto 180gsm paper. We also offer E-Gift Cards for those who can be a challenge to buy for. Shipping is free worldwide, so you can send the gift anywhere at no extra cost.
One tree is planted for every purchase made. Simply place your order through our website and we will automatically add an order for One Tree Planted at no extra cost to you.
Arborvita is a small, family run business established in 2010. We are incredibly grateful for our supporters. Your help enables our little independent business to thrive.

Standard website terms and conditions apply.