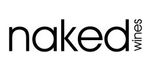 Naked Wines - Unlock an exclusive £75 saving and get 12 bottles for only £47.88
When you spend £114.99 or more
Use code at checkout
Highlights
Naked Wines are on a mission to make the wine industry better for everyone – wine drinkers and winemakers. Our customers, who we call Angels, help us back the world's best independent winemakers. In return, they get world class wines at fair prices.
Give us a try with £75 off your first case worth £114.99 or more. With a hassle-free refund guarantee on all of our bottles, you can't lose!
Standard site terms and conditions apply. Discount can only be used on your first purchase.