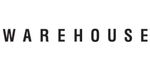 Warehouse - 20% off everything for Carers
Use code at checkout
Highlights
We are Warehouse, the British-born fashion brand with a city state of mind. We celebrate self-expression. We look to the past, but live for the present. We welcome the wild and free.
Our collections are inspired by icons. The old and the new. Trending pieces are designed for every moment. For the rebel. For the life and soul.
Statement prints stand out. Sequins shine. Style heroes set for long days and late nights.
We admire the catwalk, but create our own path. We lead and never follow. We want it now, not later.
Warehouse is an attitude. Warehouse is an icon. Warehouse is reinvented. Here's to a new era.
Standard site terms and conditions apply. Not available on sale page. Discount code overwrites online promotions and gives 40% off original price.