Blue Monday is the name given to the third Monday in January, as it is often defined as the most depressing day of the year. After spending all of November and December rushing around and preparing for the holidays, January can leave us feeling a little deflated. From the lack of daylight, minimal socialization (thanks to dry January) to the gloomy weather, January can leave us feeling a little blue – but it doesn't have to be that way!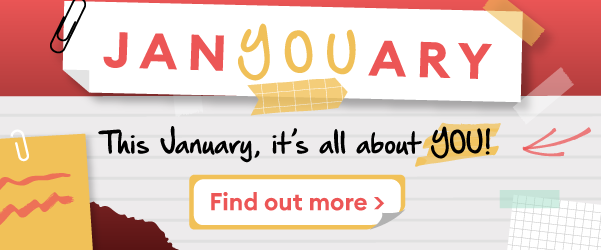 We want to do our best to help you overcome the blustery Blue! Below, we have listed some simple strategies to help pick you beat those blues. Also, why not enter our January competition to beat those January Blues? We are offering five of our members the chance to win £500 each this January, and to enter, all you need to do is redeem one of our discounts between the 15th – 31st of January.
Get outside
A lack of daylight can make you feel low and trapped – this is usually why people get the 'Winter Blues' as they feel stuck indoors. However, just because it's cold and wet does not mean you can't get outside and get some fresh air.
From a walk up the street to simply standing outside for a few minutes to get a breath of fresh air, getting out can really help your mood. This is especially important if you work from home, take a break, get outside and breathe in the fresh air.
Don't Get Caught Up In New Year's Resolutions
People tend to make New Year's Resolutions out of guilt, such as 'I'm going to lose weight next month' just because you ate a little bit too much over Christmas – which is perfectly fine!
But when you don't exercise or diet, you feel down about breaking your New Year's Resolution already. If you are going to make resolutions, then make them achievable, such as over the year, so if you do mess up one month, that's fine; you can do better the month after.
Get Up & Get Active
I know it may seem complicated to get up and exercise in this weather with nothing to look forward to, but trust us when we say once you've done a work out the feeling afterwards will be worth it. You can find lots of home workouts on Youtube and Instagram that are quick, snappy and don't take up too much time.
Try Something New
Instead of sitting in front of the TV binge-watching Netflix, why don't you find a new hobby or take up the hobby you've always wanted to do. Make a plan and take the plunge to start it.
Eating Well Makes A Difference!
During the colder months, the desire to sit in front of the TV eating all the food from the fridge is something we all experience. However, while there is nothing wrong with a lazy day, ensuring you balance that out with healthy food is important for your physical and mental health. An excellent way to make eating healthy fun is by learning to cook.
Why not pick up a new cookbook or follow some incredible chefs on Youtube? There are fantastic individuals who help make cooking and healthy eating a joy. This could also be your new hobby. Here are some Chefs on Youtube that make cooking a blast:
More Support
If you are struggling, here are some of our other blogs that can help you beat the blues: